Mark Foley's scandal is pretty classic. It features all the great hallmarks of a good sex scandal. Sex, intrigue, authority figures, pictures of sixteen-year-olds erect appendages! Essentially, all the things America needs to protect. Because if we don't, the terrorists win.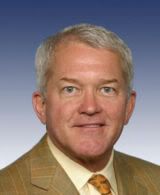 But, on the serious, Foley is kinda romantic with his messages.
"how my favorite young stud doing"?
Somebody is smooth.
"did you spank it this weekend yourself"
Ooh, Mr. Foley! You're making us blush!
"well I have a totally stiff wood now"
Congrats.
"Do I make you little horny?"
Little is the correct term.
As chairman of the House Caucus on Missing and Exploited Children, Marky Mark introduced legislation targeting online sexual predators. As he explained to an NPR interviewer in 2002, "Where I have to draw the line is using children for the excitement of those more mature people who should know the difference and know better."
Ok, we do have to defend him on this. It wasn't pedophilia. Those boys were definitely post pubescent and hot!!! Can you blame a guy for trying? According to the United States House Committee on Standards of Official Conduct, you can.